18.10.2016.

Slovenian independent record label Moonlee Records presents new album by serbian garage-postpunk-noise-rock trio Repetitor entitled "Gde ćeš'' (english: Where will you go) which is released today, on 18th October 2016 as CD, LP and digital format. Possible answer to above question is offering by itself – with invitation to some of Repetitor's performances in Slovenia, Croatia, Serbia, Bosnia, Czech, Slovakia, Netherlands…
Repetitor announced the upcoming third album with the single Beskraj at the end of 2015 and proved the trio simply refuses to depart from their mapped path. Their strongest weapon are their live shows, which influenced also the recording of this album as these 8 new songs were practically recorded in one take, again proving Repetitor's »all or nothing« stance. This also gives the album a primal drive and garage scent. The listener is thundered by a high-voltage wall of sound, bursts of rage, fear, violence, pain and anxiety. On one side, we have Boris Vlastelica psychotically grinding his guitar strings and shredding chords with a punk attitude, soon to twist them into hurricane heavy riffs. On other side, there's playful and bouncy Ana-Marija Cupin, fused with her bass guitar working on cooking a post-punk balm. All of this is glued together by the untamable beast on drums, Milena Milutinović, bittery drumming away like if it's the end of time.
In the noisy range of their guitar-based rock echoes The Stooges, Nirvana, Sonic Youth, Dead Moon, Suicide, Bikini Kill, Swans, and more – however, Repetitor are so genuine and unique that you can describe their music just by saying »Repetitor«. Together with Savages, Metz, Thee Oh Sees, Girl Band, Future of the Left, A Place To Bury Strangers, Fat White Family, they are plunging on the transversal of the most dangerous rock bands of the moment.
Repetitor live shows:
20.10.2016 @ Ljubljana, Kino Šiška (SI)
21.10.2016 @ Rijeka, Pogon kulture (HR)
29.10.2016 @ Sarajevo, Sloga (RS)
2.11.2016 @ Trenčin, Luč (SK)
3.11.2016 @ Brno, Kabinet Muz (CZ)
4.11.2016 @ Bratislava, tba (SK)
5.11.2016 @ Rožnov, T Klub (CZ)
6.11.2016 @ Prague, Klub Famu (CZ)
9.11.2016 @ Amsterdam, OT301 (NL)
10.11.2016 @ Utrecht, Le Guess Who? (NL)
18.11.2016 @ Krško, MC Krško (SI)
2.12.2016 @ Zagreb, Tvornica Kulture (HR)
3.12.2016 @ Beograd, Dom omladine (RS)
15.12.2016 @ Linz, Stadtwerkstatt (AT)
16.12.2016 @ Nova Gorica, Mostovna (SI)
17.12.2016 @ Kranj, Trainstation (SI)
23.12.2016 @ Skopje, MKC (MK)
02.08.2016.

Croatian punkrockers Debeli Precjednik / Fat Prezident launched new video/single "Subotom Kićo, nedjeljom Slabinac" to announce new split album Debeli Precjednik / Mašinko (croatian punkrock band), which will be released in autumn in cooperation between slovenian and croatian independent labels Moonlee Records and Dirty Old.
Debeli Precjednik produced the video in D.I.Y. manner – they recorded and edited it on their own in their rehearsal room in the company of their friends, t.i. comrade-in-arms in their Saturday-Sunday adventures, which are also inspiration for the song (unfortunately it is not possible to adequately translate song title in English).
23.06.2016.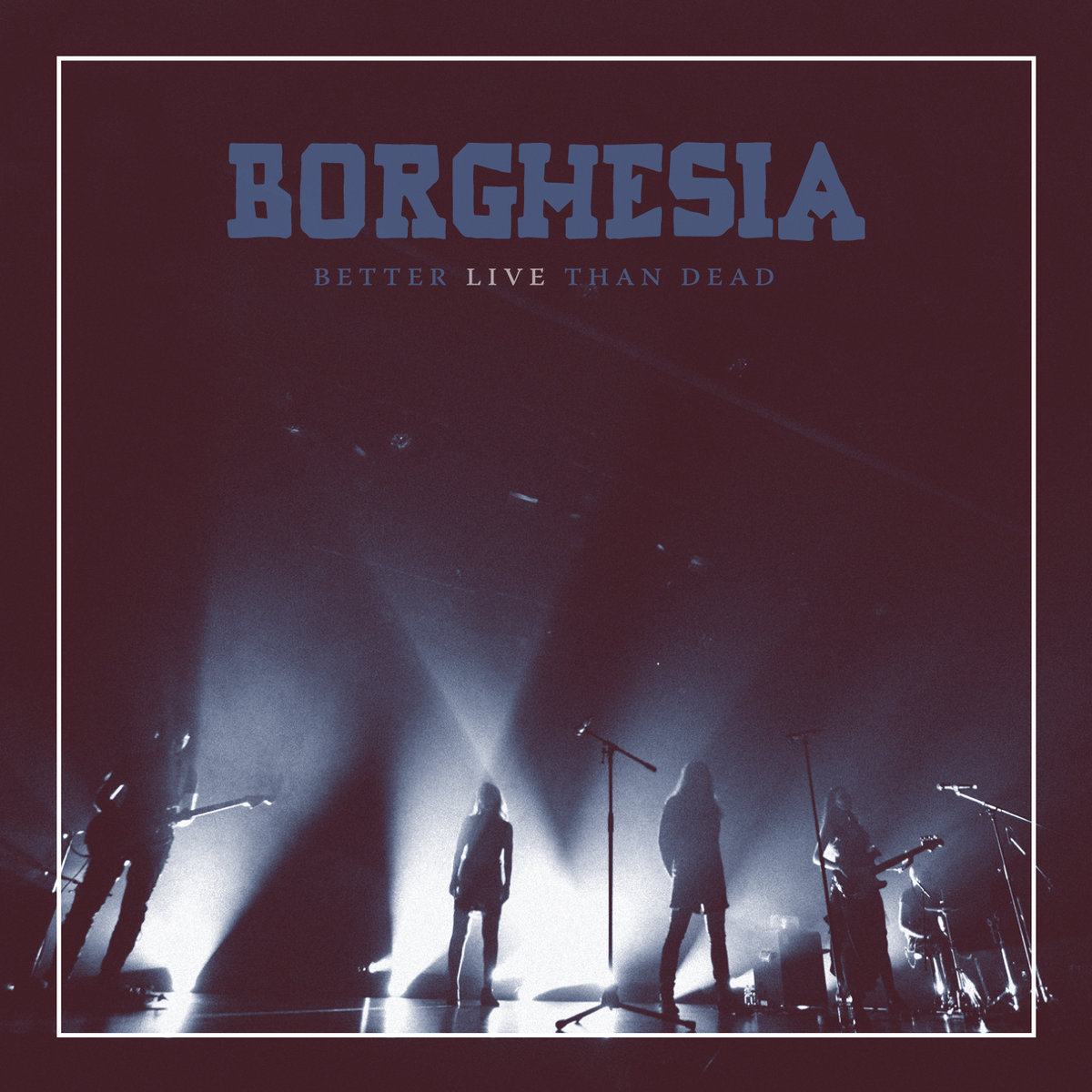 After respectful 33 years since its beginnings, Borghesia has lived to see its first live album. "Better Live Than Dead" offers five old songs in new form that were recorded live wih a renovated line-up at their concerts at Klub Mochvara in Zagreb and Kino Šiška in Ljubljana in October 2015. Live mini-album, which is available exclusively in digital format through Bandcamp (for free, but you can also choose 'name-your-price' option), is released by the Slovenian record label Moonlee Records.
Slovenian influential electronic rock group Borghesia, one of the pioneers of EBM music, made a comeback in 2014, released their latest album "And Man Created God" (Metropolis Records) and settled in a new line-up a year later: Dario Seraval, Aldo Ivančić, Andraž Mazi, Jelena Rusjan and Irena Tomažin. New times, new members and fresh creative forces are reflecting also on new band's sound, what is evident already on their last album. At the same time, old songs get a new form on live performances as well, therefore Borghesia decided to present and mark down five od their old songs (Tako mladi, Young Prisoners, Am I?, Nočne šetnje, Pasto Nudo), which were recorded live at their concerts at Klub Mochvara in Zagreb and Kino Šiška in Ljubljana in October 2015, and now released as live minialbum "Better Live Than Dead" (Moonlee Records) in digital format. Jani Mujić took care of sound and recordings, while Aldo Ivančić did the mix and mastering. Cover photo was taken by Janez Gerčar, while Antonio Karača did the cover design.
From the chosen songs, it is worth pointing out the song 'Nočne šetnje', which was actually the first Borghesia video, produced way back in 1983. The concert in Kino Šiška, Ljubljana was recorded by RTV Slovenija for TV show Aritmija (Aritmični koncerti): http://4d.rtvslo.si/arhiv/aritmija/174381373, which was used for video of the song 'Pasto Nudo'.
Borghesia is currently working on new songs to be released in a new album in 2017, while at the same time announcing their shows at Festival Lent (Večerov oder) in Maribor (Slovenia) on Thursday, 30th June 2016, and at Exit Festival in Novi Sad (Serbia) on Friday, 8th July 2016.
14.03.2016.

Macedonian activist musicians Bernays Propaganda have released their fourth album "Politika" today, March 14th 2016. Their new album, which sets an important milestone in band's career, is released on the Slovenian independent label Moonlee Records available in the CD and LP formats, as well as a free download.
It is clear from the get-go that Bernays Propaganda present themselves in a different light on the new album. "Politika" flirts with electronic new-wave, taking away some of the guitars' sharp edges, while the pace is dictated by a drum machine. A bold move by a band who had the guts to change their sound and approach to music on their fourth album. The new material recalls the sound of New Order and other new-wave artists from the early 80s, as well as the sounds of German indietronic in the vein of The Notwist, a band that underwent a similar sound transformation with their album "Neon Golden". Compared to the band's previous releases, "Politika" is permeated by a more melancholy tone – a suitable reflection of the times we live in – putting the vocals more in the spotlight. Bernays Propaganda are lyrically they are as fierce as ever, uncompromisingly commenting on the modern way of living and the position of each individual in the contemporary madness called democracy.
After the album release, Bernays Propaganda are heading out on a month-long European tour in April and May. Check out the dates below.
European "Politika" tour:
14.04.2016 @ Kraljevo, Veselo majmunče (RS)
15.04.2016 @ Beograd, Elektropionir (RS)
16.04.2016 @ Krško, MC (SI)
17.04.2016 @ Kranj, Layerjeva hiša (SI)
19.04.2016 @ Genoa, Disorder Drama secret shows (IT)
20.04.2016 @ Schaffhausen, Tap tab (CH)
21.04.2016 @ Geneva, La cabinet (CH)
22.04.2016 @ Marseille, La Sale gaule (FR)
23.04.2016 @ Toulouse, Le Hangar (FR)
24.04.2016 @ Barcelona, Blokes Fantasma (ES)
26.04.2016 @ Zaragoza, Eccos (ES)
27.04.2016 @ Oviedo, Lata de zinc (ES)
28.04.2016 @ help needed! (FR/ES)
29.04.2016 @ Périgueux, L'Écume des Jours (FR)
30.04.2016 @ help needed! (FR)
01.05.2016 @ Rotterdam, WORM (NL)
02.05.2016 @ Benelux TBA
03.05.2016 @ Benelux TBA
04.05.2016 @ Düsseldorf, Brause (DE)
05.05.2016 @ Amsterdam, OCCII (NL)
06.05.2016 @ Groningen, De Gym (NL)
07.05.2016 @ Eisenberg, H2O-turm (DE)
08.05.2016 @ Berlin, ACUD MACHT NEU (DE)
09.05.2016 @ Prague, Cross (CZ)
10.05.2016 @ Bratislava, Fuga (SK)
11.05.2016 @ Graz, Sub (AT)
12.05.2016 @ Ljubljana, Gromka (SI)
13.05.2016 @ Koper, Inde (SI)
14.05.2016 @ Novi Sad, CK13 (RS)
01.03.2016.

The Macedonian activist musicians Bernays Propaganda announce their fourth album "Politika" (to be released on 14th March 2016 on the slovenian independent label Moonlee Records) by releasing the second single Armija. The song is available for streaming and as a free download at the Moonlee Records Bandcamp profile.
After the official album release in April, Bernays Propaganda are heading out on a month-long European tour. Be sure to check them out if they play nearby.
»Politika« Euro tour dates:
14.04.2016 @ Kraljevo, Veselo majmunče (RS)
15.04.2016 @ Beograd, Gun club (RS)
16.04.2016 @ Krško, MC (SI)
17.04.2016 @ Kranj, Layerjeva hiša (SI)
19.04.2016 @ Genoa, Disorder Drama secret shows (IT)
20.04.2016 @ Schaffhausen, Tap tab (CH)
21.04.2016 @ Geneva, La cabinet (CH)
22.04.2016 @ Marseille, La Sale gaule (FR)
23.04.2016 @ TBA
24.04.2016 @ Barcelona, Blokes Fantasma (ES)
26.04.2016 @ Zaragoza, Eccos (ES)
27.04.2016 @ Oviedo, Lata de zinc (ES)
28.04.2016 @ TBA
29.04.2016 @ Périgueux, L'Écume des Jours (FR)
30.04.2016 @ Paris, TBA (FR)
01.05.2016 @ Rotterdam, WORM (NL)
02.05.2016 @ Benelux TBA
03.05.2016 @ Benelux TBA
04.05.2016 @ Benelux TBA
05.05.2016 @ Amsterdam, OCCII (NL)
06.05.2016 @ Groningen, De Gym (NL)
07.05.2016 @ Eisenberg, H2O-turm (DE)
08.05.2016 @ Berlin, ACUD (DE)
09.05.2016 @ Prague, TBA (CZ)
10.05.2016 @ Bratislava, Fuga (SK)
11.05.2016 @ Graz, Sub (AT)
12.05.2016 @ Ljubljana, Gromka (SI)
13.05.2016 @ Koper, Inde (SI)
14.05.2016 @ Novi Sad, CK13 (RS)